Welcome to Colegate Woods Veterinary Hospital
Your Veterinarian in Marietta, OH
Call us at 740-373-5080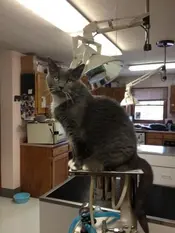 If you live in Marietta or the surrounding area in OH, then you have picked the perfect site to find a veterinarian. We are licensed veterinarians, treating all types of cats and dogs. Your pet's health and well being is very important to us and we will take every step to give your pet the best possible care.
Colegate Woods Veterinary Hospital is a full service animal hospital and provides wellness care, spays, neuters, medical, surgical, and dental issues. Our doctors are experienced in all types of conditions and treatments. Beyond first rate pet care, we make our clinic comfortable, kid-friendly, and a very calm environment so your pet can relax in the waiting room and look forward to meeting his or her own Marietta veterinarian.
We have a number of resources for you to learn about how to take better care of your pets. Browse around and look at our articles and pet videos. The best veterinary care for animals is ongoing nutrition-and problem prevention. If you want to ask a question call 740-373-5080 and we will be happy to help you. Colegate Woods Veterinary Hospital is very easy to get to, and you can find directions on our Contact Us page. You can also subscribe to our newsletter which is created especially for Marietta pet owners. In between your veterinary visits, your pet will benefit from you reading these free informative articles.
If you ever feel that your pet needs emergency treatment do not hesitate to call. It is best to call before coming in so that a team member can advise you on your particular emergency.
If you have an after hours emergency, here is a list of the nearest EMERGENCY facilities. We strongly suggest calling first.
MEDVET: Columbus, OH – (614) 846-5800
Cincinnati, OH – (513) 561-0061
Hilliard, OH – (614) 870-0480
Akron, OH – (330) 665-4996
East Canal Winchester, OH (614) 829-6444
Dayton, OH – (937) 293-2714
Toledo, OH (419 472-0328
Pittsburgh, PA (724) 717-2273
OHIO STATE UNIVERSITY: Columbus, OH (614) 292-3551 or Dublin, OH (614) 889-8070
ANIMAL EMERGENCY CARE CENTER: Wheeling, WV – (304) 233-0002 *ONLY OPEN UNTIL 11PM
NORTH CENTRAL WV EMERGENCY CLINIC: Fairmont, WV – (304)363-2227
KANAWHA VALLEY VET EMERGENCY: Charleston, WV (304) 768-2911
PITTSBURGH VETERINARY SPECIALTY & EMERGENCY CENTER: Washington, PA (724) 809-2000
CHEAT LAKE ANIMAL HOSPITAL: Morgantown, WV – (304) 594-1124
METROPOLITAN VETERINARY HOSPITAL: Copley, OH – (330) 666-2976
STARK COUNTY EMERGENCY CLINIC: Canton, OH – (330) 452-5116
TRI STATE ANIMAL ER: Caredo, WV – (304) 453-5700
PITTSBURGH VETERINARY EMERGENCY CENTER: Pittsburgh, PA (412) 366-3400
At Colegate Woods Veterinary Hospital, we treat your pets like the valued family members they are.

Dr. Roberta Haught

Marietta Veterinarian | Colegate Woods Veterinary Hospital | 740-373-5080
1402 1/2 Colegate Drive
Marietta, OH 45750